Dhammaduta College, MCU Holds a Meeting with Dhammaduta Bhikkhus to good deed for Dad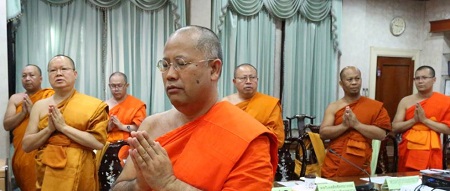 On 5 December 2561/2018 09:30-16:30 MCU: Phra Sophonvachirabhorn, Vice Rector for Foreign Affairs and Acting Director, Dhammaduta College is together with administrators, lecturers and staff of International Relations Division, MCU to hold a meeting with Dhammaduta Bhikkhus, who have propagated and experienced Buddhist mission in abroad. The meeting is aimed to conduct the training Dhammaduta Bhikkhus Class 25/2562/2019 and discuss curriculums of Dhammaduta College, MCU for 5 years.
In this occasion, they are together to make good thing for King Rama IX, as the Father's day of Thailand at Conference Room 205, MCU Building, MCU, Wat Mahathat, Bangkok, Thailand.
News: Dhammaduta College
Reporter: Dr.Phramaha Samarn Jataviriyo
English News: Phra Siriwanna Siriwanno
Picture: Dhammaduta College , MR. LIKIT BOONLAKON