Foreign Affairs of MCU welcome distinguished guests to MCU Convocation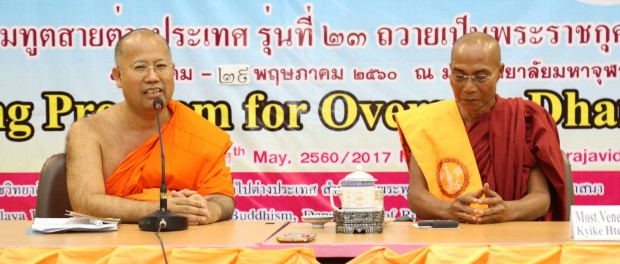 On 19 May, 2560/2017, at 17.30, at MCU: The convocation ceremony of Mahachulalongkornrajavidyalaya University in 2017 at MCU, Ayutthaya has been held during 18-21 May, 2017.
As the foreign affairs of MCU led by Phra Sophonvachirabhorn, Vice Rector for Foreign Affairs of MCU, Acting Director of Dhammaduta College of MCU with administers, lecturers, staff of MCU who are responsible to the honorary guests from abroad, graduate students from all affiliation of MCU such as Singapore, Sri Lanka, Myanmar, Indonesia, Korea, China, Hong Kong so on. Moreover, Dhammaduta Bhikkhus also help to take care of distinguished guests and facilitate to them all who are coming to join this convocation ceremony.
Moreover today in the evening, Most Ven. Agga Maha Suddhamma Jotika Dhaja Bhaddanta Nargadipa, Abbot of Kyaik Htee Saung Monastery, Myanmar, Ven. Shim San Sunim, Korea, and Madam Daw Ni Ni, Myanmar, who are coming to receive the honorary doctorate degrees of MCU were occasionally invited to give speeches to training Dhammaduta Bhikkhus. They gave knowledge about their experiences and propagating Buddhism at Classrooms Zone D, MCU, Ayutthaya.
News: Dhammaduta College
Reporter: Dr.Phramaha Samarn Jataviriyo
Translator/Phra Siriwanna Siriwanno
Picture: Dhammaduta College Mr.Likit boonlakhor